Breaking resistance barrier
Linksium Contact
Laurène El Bahhaj
+33 (0)7 76 23 29 19
laurene.elbahhaj@linksium.fr
REACT THERAPEUTICS
Emile Roussel, CEO
+33 (0)6 87 88 40 76
contact@react-therapeutics.com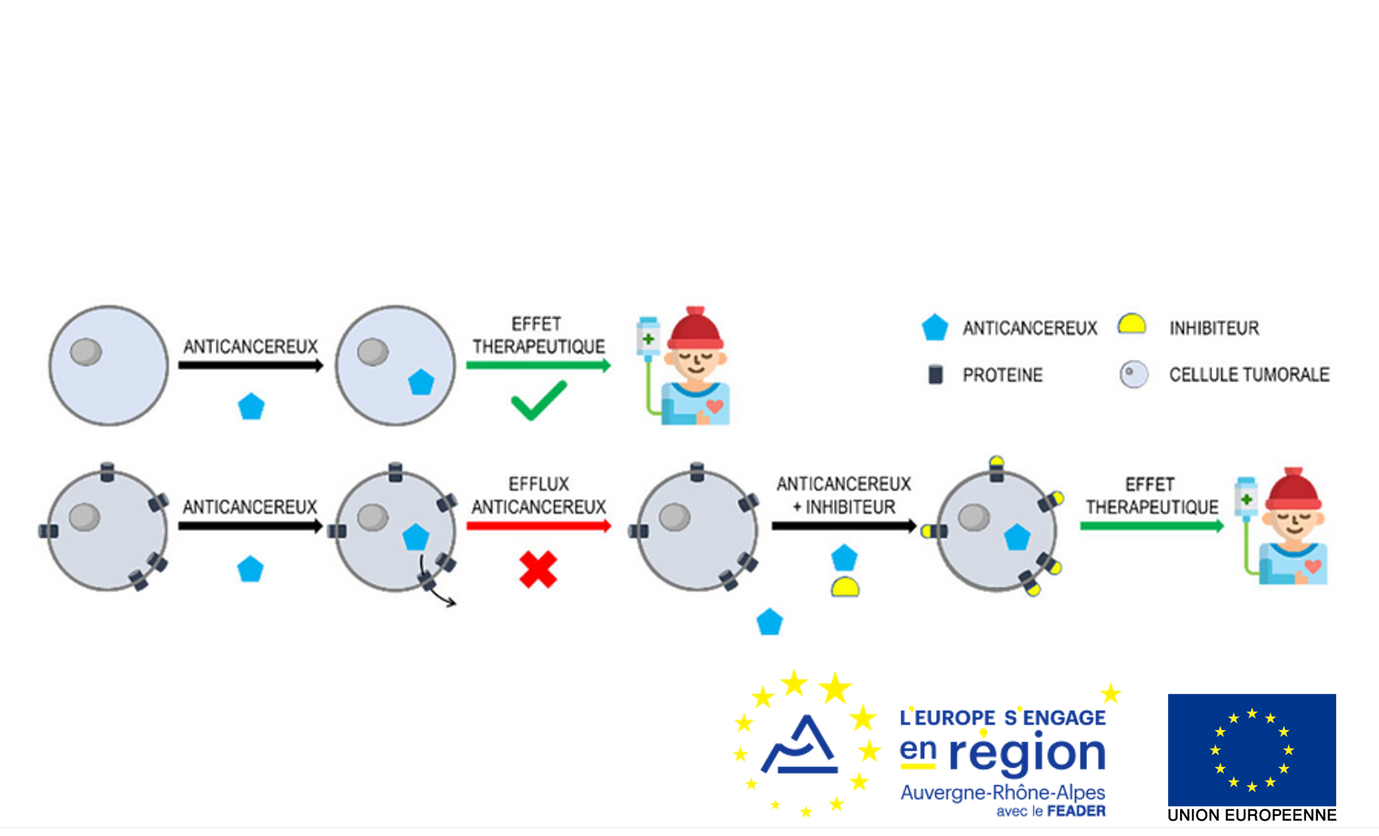 Benefits
Restore anticancer drug efficacy
Stop anticancer drugs efflux
Improve the quality of care
Extend the use of anticancer drug on the market
Key words
Cancer
Multidrug resistance
Chemotherapy
Protein
Inhibitor
Partnerships & Rewards
Région Auvergne-Rhône-Alpes
2021 i-PhD French Deeptech PhD Competition Winner
Fonds FEDER - Région Auvergne Rhône Alpes
Context
Clinical data show that more than 90% of the deaths are related to multidrug resistance (MDR) phenomena. Among them, REACT THERAPEUTICS is targeting a key protein involved in efflux drug: the Breast Cancer Resistance Protein (BCRP). It is able to transport numerous drugs including anticancer drugs.
Technology
To beat the drug efflux, REACT THERAPEUTICS has discovered ValOMé, an ABC transporter inhibitor as a new BCRP drug class. ValOMé is an effective, selective, and non-toxic lead preclinical drug. At the same time, it is developing BioRes, a BCRP biomarker to detect and monitor the expression level of BCRP.
Advantages
Restore the treatments efficacy
Decrease the side and/or adverse effects
Increase the number of therapeutic options
Improve the care quality
Reduce the cost and the duration of treatments
Increase the chance of survival.
State of progress
In mice, the combination of ValOMé + irinotecan can improve treatment efficacy by 60% compared to irinotecan alone and increase survival by 75%. REACT THERAPEUTICS' studies show that ValOMé is not toxic in terms of genotoxicity, cardiotoxicity, etc. Finally, ValOMé is selective for BCRP and has limited action on main CYPs.
Applications
ValOMé could be combined with 40 known resistant anticancer drugs used to treat 14 cancers. These drugs belong to different class of treatments: chemotherapy, targeted therapy, hormone therapy and immunotherapy.
REACT THERAPEUTICS is currently assessing ValOMé in colon, pancreas, and breast cancer to restore treatment efficacy.